PABX Model: KX-TES 824 CALL FOR PRICE
Product Code: Model: KX-TES 824
Availability: In Stock
Price: ‎৳0.00BDT
Ex Tax: ‎৳0.00BDT

A smart PBX system generally has some call present buttons that thoroughly communicate to individual lines and/or stations, but may also support main dialing to any extensions or outside lines without selecting a line presence. The smart key system is usually fully digital, although analog variants consist and some important systems implement VOIP services. Efficiently, the aspects that separate a PBX from a hybrid key system are the amount, scope and hardness of the characteristics and advantage offered.
KX-TES 824 helps in Establishing good contact between two telephone sets of two users (e.g. calibrating a dialed number to a physical phone, confirming the phone isn't already busy. managing such communication as long as the users need them (i.e. channeling voice sign between the end user) Disjoin those establishment as per the user's requirement. supplying information and data for accounting purposes (e.g. metering calls). In addition to these main basic activities, PBXs offer many other calling characteristics and capabilities, with different supplier providing many features in a great effort to differentiate their own products. General capabilities included (manufacturers and supplier may have a other name for each capacity.
These systems generally have their front end units indicate to as Turrets and are important for their presentation of hoot-n-holler circuits. Multiple Hoots are presented to multiple users over multiplexed speakers to multiple locations. Hybrid systems are a general tool in the economical services industry used on trading arena. These modern hybrid key systems generally only need attached PBXs for communication with back-office staff and voicemail.
Nanosoft system Ltd offer various types PABX System from world of popular brand like 3Com, Focus, Nortel, Aastra, Fujitsu, Nortel BCM, Alcatel, Harris, Nortel, Norstar, Ascom, Hicom, Panasonic, Aspect, Hipath and Ready Talk etc. Nanosoft Technology Bangladesh is Supplier, Importer Dealer & Installer in Dhaka, Chittagong, Sylhet & all over in Bangladesh of all kinds of PABX System. We are facilitating full time PABX System solution in Bangladesh. ANALOG PABX, HYBRID PABX, INTERCOM, TELEPHONE SET, Hosted PBX systems, Mobile PBX, IP-PBX are available in our store. Nanosoft Technology System Limited, a sister Concern of CH RokonGruop is the market leader and best supplier of PABX Systems. we offer very competitive price.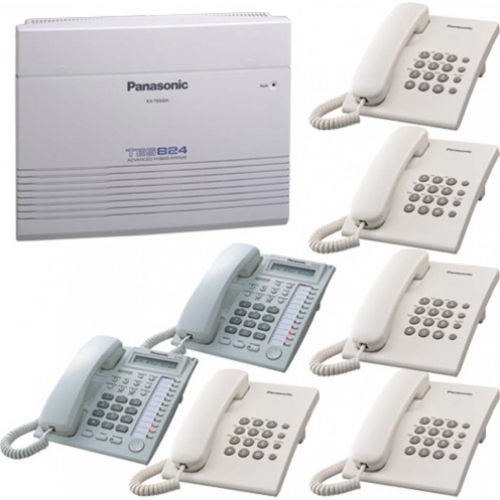 Product Configuration:
Internal channels: 3
Maximum port capacity:24 extension (16: Mixed 8: Normal)
dial-up external: Audio (DTMF) / pulse (10 pps, 20 pps)
Internal: Audio (DTMF) / pulse (10 pps, 20 pps)
dialing mode: pulse → DTMF
connection Trunk: module interface (2 wires)
inside: the module interface (four-wire)
paging: conductor jack
external music source: conductor jack
SMDR: RS-232C input and output ports ( 9-pin D-SUB)
programming: RS-232C / USB / remote modem
SMDR (station message detail recording)
detail records: date, time, extension number, an outside number, dialed number, call duration, billing codes, caller ID * 2
reverse polarity detection * 1:
voice mail ports: 2 ports (APT or the DTMF)
the DTMF receiver: 2
the DTMF generator: 1
Inward path: 2
power failure transfer ports: 1
direct connection to an external battery: Yes
power supply: AC 110 - 240 V, 50/60 Hz
power consumption: 45W
dimensions (W x H x D): 368 mm × 284 mm × 102 mm
weight (full configuration): approx. 3.5 Kg
Write a review
Note: HTML is not translated!
Rating: Bad Good
Enter the code in the box below: